Victoria struggled with her weight her entire life. Even when regularly reading labels, running marathons, and working out, she could never seem to lose weight. However, that all changed when she enrolled in the Naturally Slim program. By changing her relationship with food, she has been able to lose 52lbs and counting! Here's her story: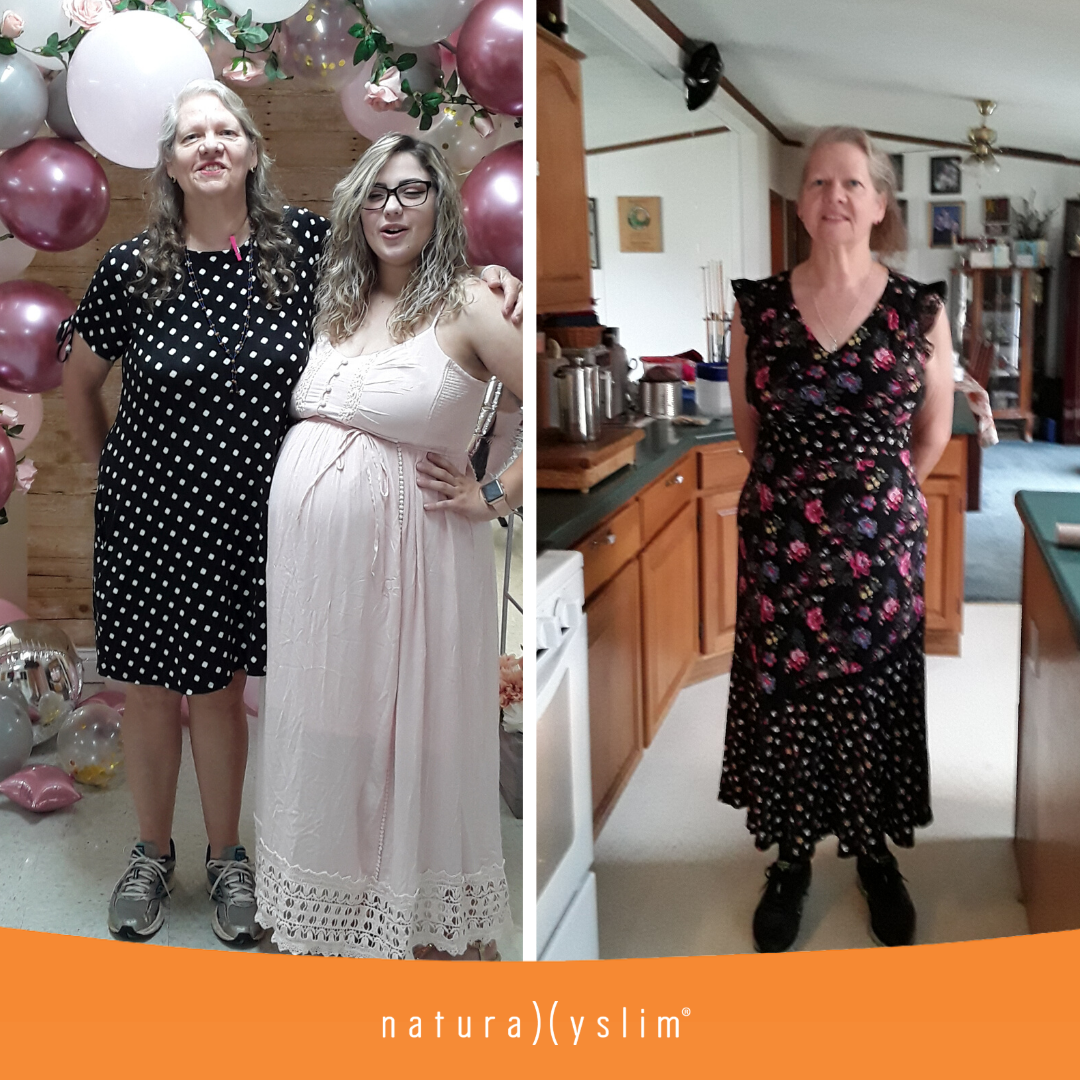 Tell us about yourself!
I live on a "hobby farm" with my husband. We have gardens, sheep, horses, cats, chickens, and one dog. I have 3 grandchildren that live in Texas, with my daughter and son-in-law.
What were your struggles before starting the Naturally Slim Program?
I have struggled with my weight all my life. I never knew how to eat correctly until starting this program. I was eating too much and drinking a lot of calories. I am allergic to aspartame, so diet sodas were out of the question. I am always reading labels. I am married to an ultra-marathon runner, and I have actually done a couple myself Two 50K's That's 31 miles in one day! I have run a couple of marathons too. I was always working out, but not losing any weight.


Tell us about your Naturally Slim experience!
I started my Naturally Slim adventure on April 29, 2019. I weighed in at 233—not the heaviest I have been, but pretty close. I absolutely love the videos. I started losing weight in the first week! I was more than ready to try something different. I have done a bunch of different diet programs over the years, but nothing has been this easy, or this successful. The video that explained that "your mouth can't outrun your feet," really made sense to me.

What is your favorite part of the Naturally Slim Program?
I love the videos! When I first started, I watched them over and over again (while riding the stationary bike at the gym). I really liked the parts that would show the "typical me" part, and then the "what you should have done" part. That helped me a lot. I started out losing about 1 to 2 pounds a week most weeks.
Now I am on week 32 and have lost 52 pounds (and counting down). I think the idea that "every meal is a chance to start again" is great. You don't feel like you have to lose every day.
Any advice for those just starting or currently in the Naturally Slim Program?
My biggest focus is on the hunger savers.
I make my own popcorn so I know it only has salt on it. I cook it in oil (I cannot stand the air popper stuff) on my stove, so no sugar and not too much salt.
I have two little plastic containers with peanut butter crackers in my purse.
If I am going out and about, I make a peanut butter sandwich that I have a plastic container that works perfectly.
I also keep a stainless-steel water jug with me. Having something to drink is important, so I won't want to grab a sugary drink.
I have a food diary, that is one of those that just has blank pages, but on the outside, it says: Stay Focused, because you totally got this. I think it's perfect. I read it every time I pick it up as a reminder.
How do you stay plugged into the Naturally Slim Community?
I also head to NS Town during the week and on weekends. I sometimes comment, but mostly read. I will re-watch the videos too.
What does a typical day on the Naturally Slim Program look like for you?
On a typical day, I wake up at 4:45 AM, go to the gym, and workout. I then take a shower and am off to work. I have a stand-up desk and spend at least 5 hours a day on my feet. I've even gotten to where I work better standing up. After work, I go home to make supper, I do the dishes, watch jeopardy and then go out to do the chores (feeding my sheep and cats and closing up the chickens for the night). Then I get my stuff ready for the next day, and if there is any time left over, I knit or embroider. I like to keep busy. It keeps your mind off of food.


Have you had any unexpected drawbacks during the Naturally Slim Program?
The biggest drawback is that now I need new clothes! I have a large safety pin that I have been using to keep my pants up that don't have belt loops. I have bought a few new things, but keeping that to a minimum, while I am still losing weight. My sewing machine is working overtime! The best thing is I have gotten back into some of my favorite dresses, and some of them are actually loose.
Has anyone joined you on your Naturally Slim journey?
My sister has started the program, and I talked a lady at the gym into joining too (she is a state employee, like me, and they paid for the program for both of us).

Anything else you want to add?

Keep going, sometimes I feel like I have not stayed as focused as I should, but it turns out that I was more in tune than I thought, because I actually ended up losing weight after all that week.
Thanks for inspiring us with your story, Victoria!