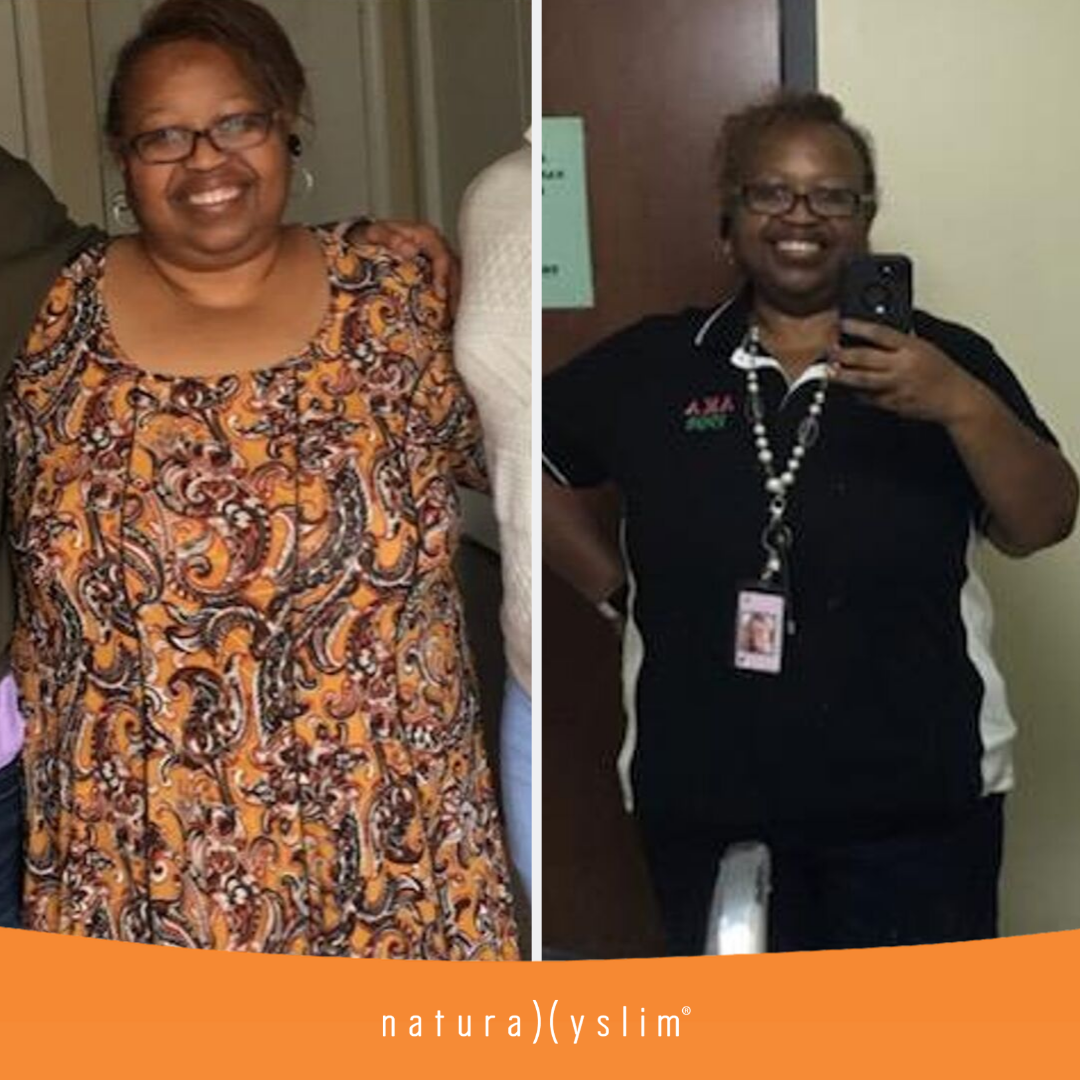 How did you hear about the Naturally Slim program?
I received an email from our HR director about Naturally Slim. It was free, so I thought why not! I completed the application, but I was stuck when I was asked for my insurance number. I said, "oh well" and left it alone. Something kept [telling me] in my mind to go find my insurance number. The thought would not leave me alone, so I did. I found the insurance number, completed the app and here I am! A staunch believer in the power of the Naturally Slim program.
What was your experience with Naturally Slim?
Some surprises came along as I progressed through the first 10 weeks. The most surprising thing I learned was I could eat what I want and still lose weight! It is not what you eat, but when & how much! I have learned to eat when I am hungry, enjoy my meals, & lose weight!
What meals have you been able to enjoy on the Naturally Slim program?
Some of the greatest things I've enjoyed with Naturally Slim have been Cajun shrimp and grits, fried oysters, cheeseburgers, and even chili cheese fries!!!
How is your life different after Naturally Slim?
Before Naturally Slim, I had ZERO energy. I would go to work and come home … that's IT! Now, I feel energized! I work on the fourth floor of a building. One day, pre-Naturally Slim, the elevator went out. It was a struggle to make it four flights! Thankfully, it was working by the end of the day! Now, I take the stairs EVERY DAY! Four flights … up and down … twice a day!
What is your advice to someone starting Naturally Slim?
My advice to someone just starting Naturally Slim would be to keep an open mind. Listen and follow the principles. It WORKS!!! For me, dieting did not work. I would lose weight, just to gain it all back because I went back to eating "bad" food. With Naturally Slim, there is no "bad" food. Just eat what you want, when you're hungry and you WILL LOSE WEIGHT!
What impact has Naturally Slim had on your life?
The biggest impact that Naturally Slim has made on my life is to make me feel better about ME! I look at a picture I took with my sons for my birthday and I was not happy. Thankfully, Naturally Slim came along and gave me the means to make some positive, healthy changes in my life. I feel better; therefore, I am happier with myself! I spend more time taking care of me. Facials, massages, workouts, community service … taking time to improve the quality of my life.