Meet Jennifer Tate. She's lost more than 40 pounds (and counting) with the Naturally Slim® program! In practicing the skills she's learned, she's turned small lifestyle changes into big time weight loss. Here's more about her experience.
How Quickly Jennifer Lost the Weight
"I started seeing changes within the first couple of weeks. During the 10-week program, I lost an average of 2.8 pounds each week. So, the results were easy to see. I think it was important for me that I not only took my measurements using the measuring tape and book the Naturally Slim program sends you, but I also took before and after pictures."
Since completing the first 10 sessions, Jennifer has continued to lose weight. She's currently lost a total of 45 pounds and 30 inches. Way to go, Jennifer!
"The Naturally Slim program retrains your natural eating habits and has been easy to maintain. If I get off track, I know how to reset and start again which is very encouraging."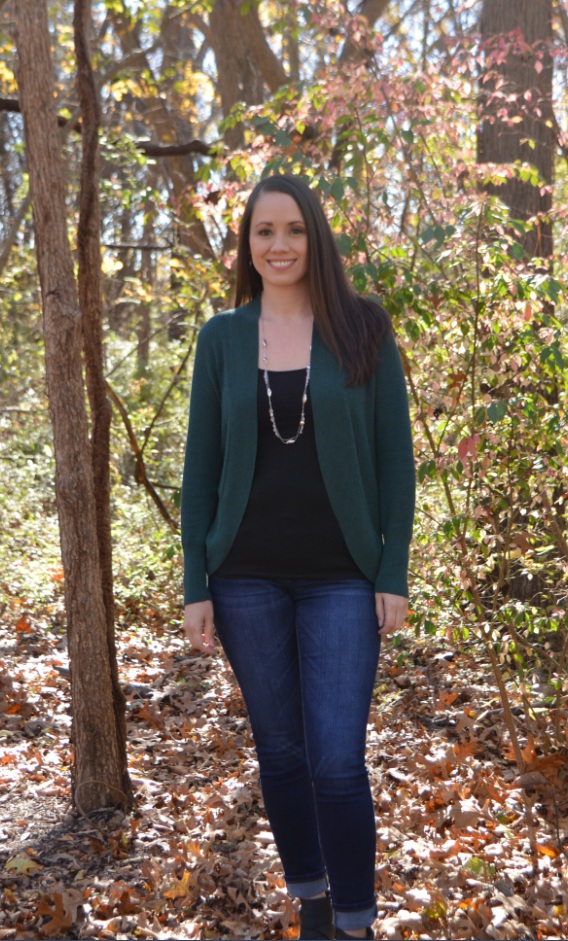 Jennifer's Favorite Things About Naturally Slim
"You can eat whatever you want! When I first read that you could eat pizza and lose the weight, my mind went straight to, "Oh sure, gluten-free, thin crust, veggie-with-no-cheese pizza." Because every diet I had tried before would've been that. This program was a game changer because I really could eat whatever I ordered or made for my family. There were no special groceries to buy, and we actually save a lot each month because we all eat less now."
Throughout the program, Jennifer learned how her body stored and processed what she ate. Now, she makes her meals more intentional.
"If I am eating something that I consider unhealthy, I take my time and really enjoy it, so I don't eat as much. H2Orange™ is critical for me to have. I notice on days when I don't have H2Orange™ or drink a lot of water, I want to snack more."
What Jennifer Found Challenging
She found eating slower was sometimes difficult.
"I had been eating fast for years, so slowing down was a little challenging. There's a timer on the Naturally Slim phone app which I highly recommend using."
Jennifer is thankful to have such a wonderful support system at home and work that helped keep her on track. She also enjoyed the online forum where she found answers to many of her questions and was inspired by other participant success stories.
Jennifer's Parting Thoughts
"I would 1,000% recommend this program to anyone wanting to live a healthier lifestyle. This program gives you guidance on how to make changes in a way that your body will respond to. I never feel like I have to starve myself, eat things I hate, or give up the foods that I love. It's really about learning how to listen to your body and let it do what it's designed to do."
Changing how she thinks about food gave Jennifer hope that she could be a healthy and active mom for her children.
"My life doesn't revolve around food anymore, and I feel a sense of freedom to focus on other areas of my life. What makes Naturally Slim different from other programs out there is that it's based on common sense principles about how and when you eat. The portion sizes will quickly come under control when you take your time to eat. But this program goes beyond that and addresses why you overeat whether that be from stress, habit, boredom, or something else."
Jennifer also enjoyed learning about how physical activity and how it plays a role in weight loss as well as why its important to our overall health, especially as we age.
"They debunk a lot of myths out there about food and the way our society talks about it. Some things I knew, and some I didn't. But it was all good information."
Jennifer's Tips for New Participants
"Watch the videos as soon as possible during the week. It helps you get in the right mindset to tackle the week."
"Use the proper Hunger Savers®. They were researched and have been proven to work. I keep some peanuts in my purse in case I can't eat when I want to!"
"Take before and after pictures and measurements. You'll be amazed to see the progress."
"Don't compare yourself to your peers. It is not a competition. You are changing your life. I lost more weight than my coworker, but she lost more inches. Everyone's body will react differently, and that is okay. This is your journey!"
"Set weight loss goals and reward yourself. Maybe your goal is to lose 20 pounds. When you hit 10, get a pedicure or go to the movies. Do something that is just for you to celebrate your progress."
"Stay positive! You didn't put the weight on in 10 weeks, and you won't take it off that fast, either. Try to remember that everyone has a bad day. It's how you get back up that counts."
"Most importantly, follow what Marcia says! You won't see 100% results from doing 50% of what she is telling you. It really is very simple, but you have to do what she says to develop long-term habits."
Thanks for sharing, Jennifer!
Want to share your story? Reach out to us on Facebook, Twitter, or Instagram!