By: Registered Dietitian Nutritionist and Naturally Slim Instructor, Meridan Zerner
Doesn't it seem like there's always a day or a month to celebrate these days? From small observances like National Pancake Day to bigger things like National Nutrition Month (one of my favorites), there's a celebration for just about everything!
Some may simply be fun, while others have the potential to be educational and meaningful. October happens to be National Eat Better, Eat Together Month, which can give us a chance to sit down with our loved ones, slow down (one of your Naturally Slim principles), and connect over a flavorful meal.
If either "I'm too busy" or "we're too busy" pops into your mind, you're not alone.
So many of us have long work hours and/or commutes, unpredictable schedules, appointments, and our children's after school activities (like sports and homework) that take up a large part of our day.
Plus, if you do have children, you know they can be hungry at different times. And if you're a single parent doing it all, that can compound everything even more.
But there are numerous benefits of sharing a meal with those close to us.
It can allow us to:
Connect and converse with one another—two essentials for both kids and parents
Meet our vital need for one-on-one attention—especially for couples
Practice and model our Naturally Slim skills
And research shows us that:
Children who attend more family meals tend to consume more fruits, vegetables, milk, and dairy compared to those who attend fewer family meals.
Young adults who were raised eating regular family meals consume more vegetables, are better nourished and have lower rates of obesity. (The benefits of eating together can help young adults better their academic performance, too!)
Eating together may even improve mental health.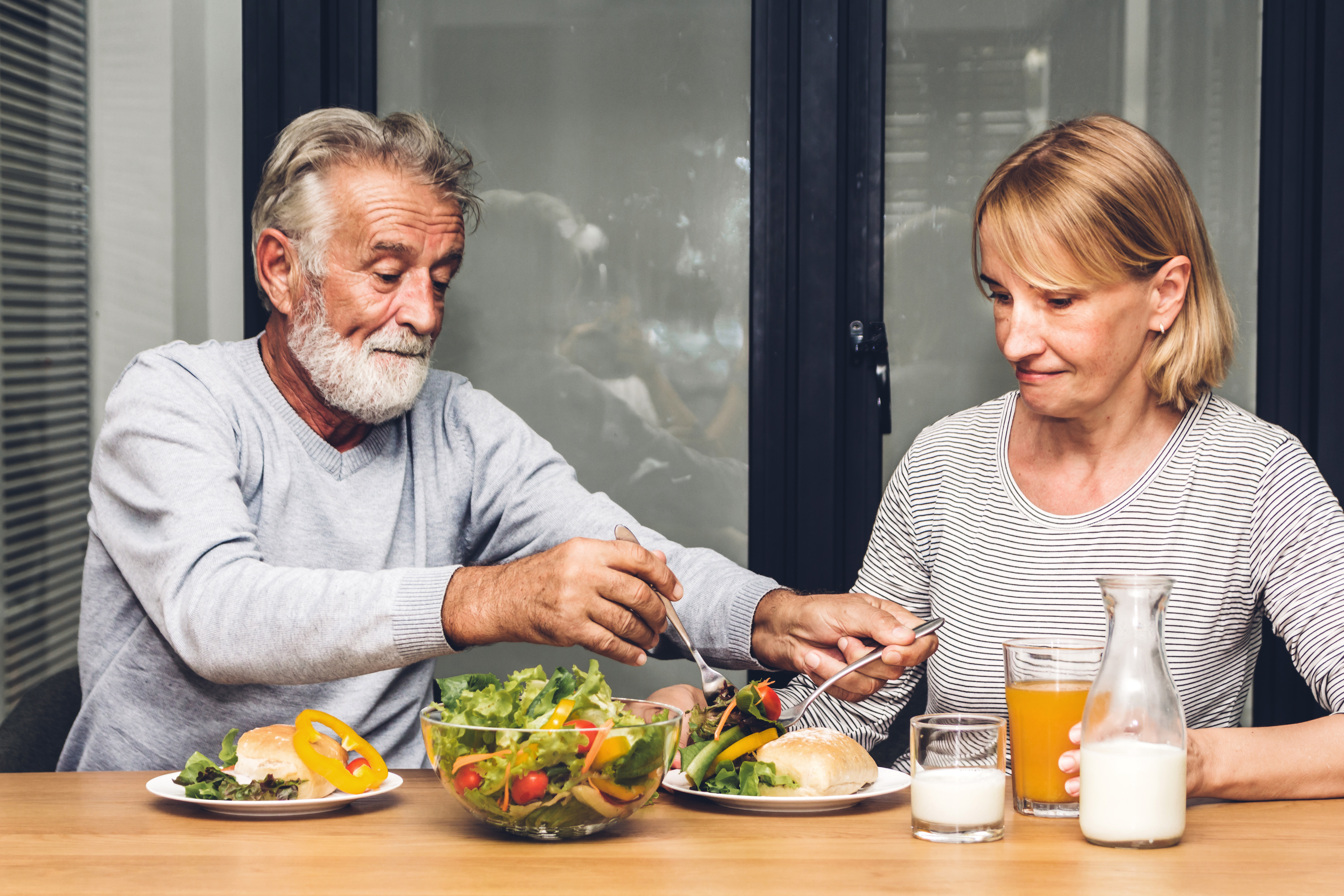 Like I mentioned before, we're all busy. But making time to sit down, connect, and enjoy one another's company is SO important. Now, how do you do that?
1. Put it on the calendar
Pick a time (or a few times) each week when everyone can attend. It doesn't have to be dinner! It can be breakfast, brunch, lunch, or dinner during the week or on the weekend. If you can make it consistent, great. But if it needs to be different times each week, that is ok, too!
2. Pick a convenient location
To create a meaningful connection, you just have to be together—at home, at a restaurant, or somewhere else!'
3. Keep it simple
You don't have to cook a complex meal from scratch that takes lots of time and energy (unless you really enjoy that kind of thing). Enjoying a meal together can be as simple as getting drive-thru pickup, ordering pizza delivery, dining in a restaurant, or putting together a simple home-cooked meal (which can save you money).
Here are a few of our favorites quick and easy meals:
Spaghetti with frozen meatballs and a mini veggie tray
Rotisserie chicken with sweet potato fries and a microwaveable bag of veggies
Make your own burrito night: canned beans, tortillas, lettuce, salsa, cheese, and microwaveable rice
Delivery pizza or fast food burger and a salad
Breakfast for dinner: scrambled eggs, frozen toaster waffles, and strawberries (or a fruit cup)
4. Use your during-meal skills
When you sit down to eat, use your 10-5-10 timer, chew slowly, and in between bites, have great conversations with the people whose company you enjoy most!

5. Limit electronics
The goal is to slow down and spend time talking over a delicious meal, preferably without distractions. (Your 10-5-10 timer is ok!) Family meals consumed while distracted (watching television, taking phone calls, reading the mail) may actually increase food consumption.
While children may not remember exactly what they ate, the memories of being together (without electronic interference) stay with them. (Distractions may be harder to avoid at a restaurant, but as always, we encourage you to do the best you can.)
6. Spark conversation
Getting everyone to join in the conversation, especially if you have teens, can be a challenge.
Try asking everyone to write a fun question or two on scraps of paper. Put them all into a bowl and take turns picking a question. (Everyone at the table has to answer the question picked!) Keep going until your meal's over.
This month, and every month, we encourage you to sit down with those close to you and share meals with each other.
The goal is a meal, any meal, anywhere—as long as you are together!