Finding Herself: Lorri's Naturally Slim Success Story
Since starting the Naturally Slim program, Lorri's confidence has skyrocketed. But her sense of self-esteem isn't the only thing climbing. Now she is, too! Hear from Lorri as she shares all that she has gained through her Naturally Slim journey—including a new circle of friends and a passion for rock climbing!
Tell us about your Naturally Slim experience.
I saw this picture of myself and knew I needed to make a change. Naturally Slim was offered by my employer's insurance, so I decided to give it a shot. I had started a New Year's resolution/weight loss challenge and tried fasting, but I didn't end up losing any weight. I knew I had to lose weight, so at the beginning of 2019, I made a goal to lose 52 pounds in 52 weeks.
Well, the first 12 weeks were a bust, but then I found Naturally Slim in April, and my life changed forever. I started my Naturally Slim journey in April 2019. When I started my journey, I immediately started following the principles to a 'T', simply because they were so easy to follow! They were oddly simple. From the get-go, I committed to watching the videos, filling out my workbook, downloading the app, keeping my food diary, and even joined a Facebook group for Naturally Slim!
It was in that Facebook group that I met my true support system of Teesha, Corey, and Mandy! These three people are also on their Naturally Slim journeys, and have been integral in my success! Without them, I would not have been so successful. We chat on a daily basis about the things that we're doing and the progress that we're making. We've all been on the program for quite a while now, and still talk every day! We are in completely different parts of the country, but Naturally Slim has connected us, I am exponentially grateful for them!
What was a favorite food that you enjoyed while losing weight on Naturally Slim?
I found out that I have a love of potato chips! When Marcia said you need crunchy, my go-to was (and still is), potato chips!
What's something you can do now that you couldn't or didn't before Naturally Slim?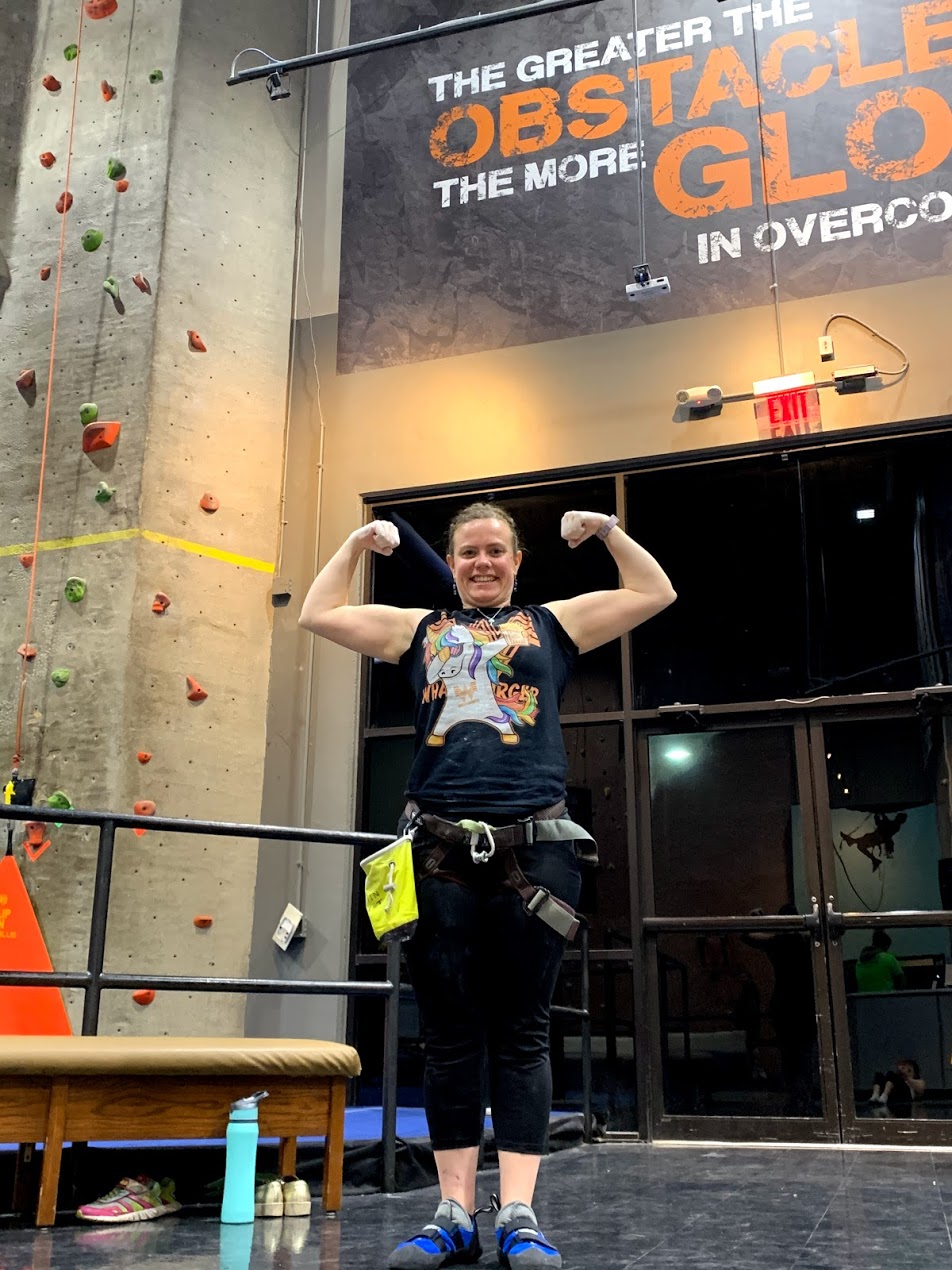 Before Naturally Slim I wasn't very physically active at all. I spent a lot of time sitting both at home and at work. Now that I've lost 35lbs I've been able to do all sorts of things! As a family we now play tennis go rock climbing, and I've recently started picking up running with my dog! Never in 1 million years did I think that I would actually like running!
It also sounds kind of silly, but before Naturally Slim I couldn't cross my legs and "sit like a lady." Now that I'm 35 pounds lighter, I sit with my legs crossed ALL the time!
I also went from an XL shirt size to a medium. It's crazy to me how loosely my clothes fit now. I'm excited to purchase a new wardrobe!
What advice would you give to someone starting Naturally Slim?
Give yourself some grace! You're not going be able to do it all overnight and like the coaches often say, you didn't gain weight overnight and you're not going to lose it overnight. Just keep with the program!
Commit to doing the no sugar challenge and be motivated to stick with it. Find a partner to do it with you! This challenge was truly life-changing. I find myself not craving sugar as much anymore and I find that the desserts and candy that I thought tasted good before, simply don't give Me taste satisfaction anymore. It has to be something REALLY good for me to truly want to eat it.
Do the difficult self-work. There are going to be challenges in this program that require you to do some self-reflection around your relationship with food and how it relates to your emotions. Do the work. Ask yourself the tough question and be uncomfortable. That's where the real work begins.
Know going into the program that there will be weight loss plateaus. Knowing that ahead of time will help curb your frustration when it happens.
Find yourself an accountability partner, support system or cheerleader! Talking through frustrations, realizations, and successes is extremely helpful in your weight loss journey.
If you just make some simple changes to how and when you eat, you will lose weight.
Thanks for inspiring us with your story, Lorri!